Every few years one of London's venerable auction houses, Christie's or Sotheby's, open their doors to our humble pastime and provide some eye-popping results. The 13 November 2020 auction of James Bond posters was of particular interest to us and we decided to examine the results, hoping to gain insights into some of these questions – Which country of origin has the most valuable Bond Cinema Posters? Which Bond actor features in the most valuable posters? Which Bond film has the most valuable posters?
There were 199 lots in total but we only analysed Cinema Posters and Cinema Stills. Items, such as watches and magazines were removed but that still left us with a great sample of 161 items to do analysis on.
While the hammer prices bear little resemblance to the reality of day-to-day cinema poster trading, they do allow us to make some insights into the factors that potentially make one James Bond poster more valuable than the next. The factors we looked at were Country of Origin, Actor, and Film and we then produced ranking tables based on these factors.
Poster Country of Origin
It may be something of a surprise to collectors to see that the average hammer price of 9 French posters was greater than the average price of the 56 British posters. A Casino Royale (1967) poster was the only French poster to fetch over £10,000. The other posters such as the highly coveted 'From Russia with Love' French poster were nearly all from the first release of Sean Connery films,.
Bond Actor
It is no surprise to see Sean Connery cinema posters being more valuable than those of any other actors in the sale. Daniel Craig posters are already flexing their muscles and on average proved more valuable than Roger Moore posters.
Bond Movie
True to form the Dr. No quad was the most valuable poster in the sale. At a hammer price of over £50,000 and a commission of 25%, it would have cost the buyer over £62,500. A stunning set of 'You Only Live Twice' Door Panels came 2nd and this 'For Your Eyes Only' poster is the only non-Sean Connery poster to make the Top 10.

Thunderball posters had the highest average value. This will be of little surprise to anyone familiar with the beautiful range of posters produced for the movie. Please get in touch if you would like the dataset we used, we would be happy to send it on.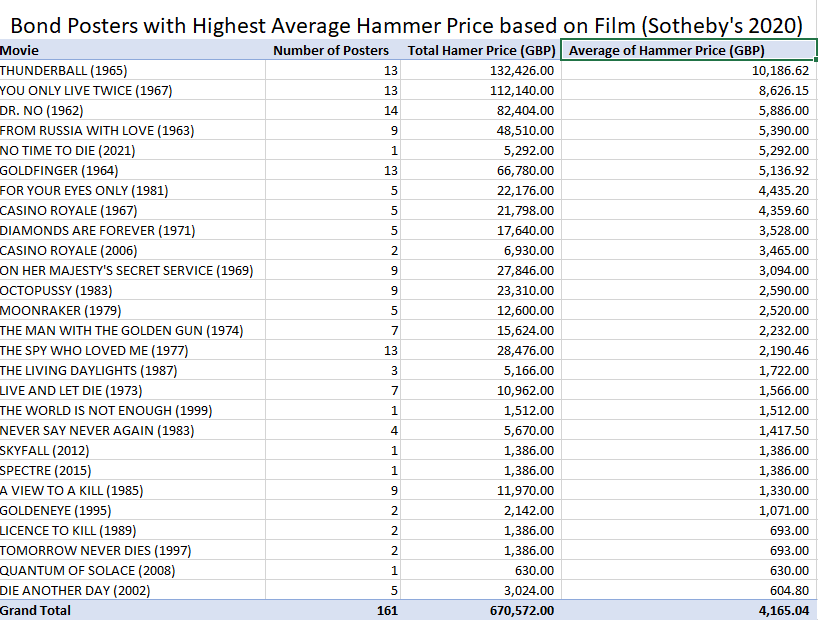 Share This Article