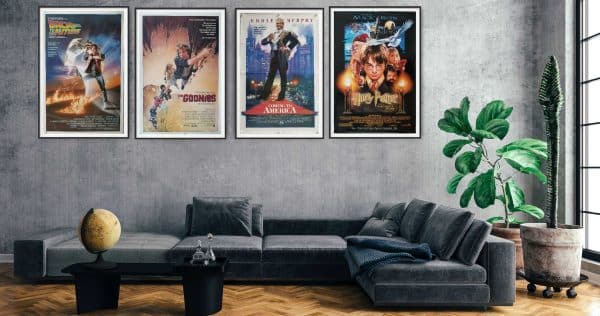 Our Shipping Company of Choice
Having tried different  many different courier companies and postal services we have found DHL to be the most reliable. For this reason posters shipped by Cinema Poster Gallery are sent with DHL.
Tracking
When we raise a request to ship an item with DHL an email is immediately sent to the recipient. This enables the delivery day and time to be changed. A safe place on the recipients property or a neighbours property can also be specified.
UK Shipping
Posters are generally received within 2-3 business days and cost 10 GBP to ship.
We endeavour  to package and have posters collected next working day. DHL usually deliver to UK addresses next working day. However due to the distance to parts of the UK, it can take 2 days. Please feel free to get in touch if you would like to check.
Custom framed posters are generally received within 2 weeks. Frames are dispatched with DX who we also find to be excellent.
Rest of the World Shipping
All posters shipped outside the UK are sent with DHL.
The level of service and reliability provided by DHL may be reflected somewhat in the shipping prices. It is often the case that we subsidise these costs to ensure our customers get the best service.
We have had issues with both lower cost shipping companies and the postal service and we now only use DHL.
| Recipient Countries | Delivery Time | Shipping Cost |
| --- | --- | --- |
| UK | 2-3 working days | 10 GBP |
| Europe | 2-5 working days | 30 GBP |
| USA | 3-5 working days | 25 GBP |
| Other Countries | 3- 7 working days | 30 GBP |